UPDATES
September 7, 2022
Happy Fall, ya'll. After several months away from art to experience and enjoy other things, to quote the first Elden Lord Godfrey: I am returned. (The "other things" I was experiencing and enjoying this year was mostly just Elden Ring.) I have little else to say except that it feels good to finally feel something other than completely burned out.
New! What cured my artistic burnout was a phenomenally silly idea that I had in the shower one day, an idea with which I became so enamored that I had to make it. So because of that shower, you can now read "Video Game Webcomic" free on this website.
May 2, 2022
It's not only the first Monday of May, but yet another Millie Comic Monday. Although today's update is more like a collection of illustrations with accompanying text than a comic, the spirit remains.
New! A deeply personal, illustrated zine about fictional women that have had profound effects on my life, but more than that, who I just think are really cool. Fittingly, this new zine is called Fictional Women and is now available at the Art and Comics section of the website.
Changed! When I first made this website in 2019 I thought I was going to be more of a writer, you know, with more words and less pictures. That didn't really stick and this new zine gave me quite a conundrum: it was essentially Nonfiction, but all of my illustrated work was in Fiction just by happenstance. The solution was simple: the Fiction tab has been replaced with Art and Comics and Nonfiction with Essays. That ought to square things away until the moment I start making videos or hosting a podcast.
Coming Soon! Fictional Women was originally intended for a physical release, but as my artistic direction for it developed, I realized I would want to get it specially printed as white ink on black paper, which I can't just run out and do as easily. That'll take some more looking into. But, once I do, I also intend to restock physical copies of Safety Eject and possibly a few more copies of Passage—though a few of the latter remain in stock over at Itch.io for any takers!
February 1, 2022
It's another Millie Comic Monday, but on a Tuesday this time.
New! Two trans women navigating the plague-stricken northeast where a rampant disease turns anyone with too much testosterone in their body into a hulking and feral monstrosity: MANHUNT: XX is now available to read...and after you read it, make sure to check out the rest of the book I adapted it from, Manhunt by Gretchen Felker-Martin, which you can pre-order here.
I also want to thank everyone who purchased physical copies of Safety Eject and Passage! It was a thrill to prepare and ship out so many copies to those who placed their orders. And there are still some copies of Passage available as well, for anyone else who would like to grab a copy.
November 1, 2021
It's the day after Halloween, which means it's New Millie Comic Monday!
New on the dracula voice website is Passage, a six-page color comic that I'm very excited to finally share publicly. It can be read online and downloaded as PDF for free here on the dracula voice, but I have bigger and better news to go with it.
As of today, the dracula voice store on itch.io is open, and from there you can order physical copies of all my new work. Booklets of both Passage ($5) and my previous work Safety Eject ($3) are now available for mail-order while supplies last, but if you miss your chance to purchase a print, please contact me somehow and let me know! I'll gladly make more print runs if there's enough demand.
And that's it! Enjoy the new comic, and make sure to purchase a print if you want one.
September 11, 2021
Hello! Some small recent updates to the website to share.
Since the old VRV Blog went offline sometime between the making of this website and me making this update, I've bittersweetly removed the now-dead links to the Features I wrote for that website back then. I say bittersweet because while it sucks that they're vanished into the digital ether, the pieces were by and large not particularly good (in my view) because of how amateurish they were (because I was an amateur then, obviously) and written only because I felt like I had to write something. It was a great move for finding my voice, but I'm ultimately not too torn up over their disappearance.
The exception is with my piece on The Blair Witch Project that I wrote back then, which was my first piece, and the one that I always felt was still excellent. For that piece, I've pulled from archived versions of the old site to restore it to new glory here a few days ago, and you can read it now with updated annotations. Now divorced from the VRV Blog entirely, it's been backdated as my first Nonfiction piece here.
Speaking of my Features, though, I've also added a new Appearance to that page as a guest voice in a brand new video essay by Lily Alexandre on YouTube. Hear me reading from an article about the ontology of the tenderqueer in her video, "Do 'Binary Trans Women' Even Exist? The Politics of Gender Conformity."
That's all for now! There'll be a new original comic like Safety Eject out before the end of the year. Maybe two of them, we'll see.
June 27, 2021
Hi everyone, I made a short comic a while ago and I'm finally able to post it here. I've turned into one of those girls who just draws comics now. That's been my big 2020-2021 character development arc. Oops! Anyway, Safety Eject is free to read online now.
March 4, 2021
Hello! A small update this time. I recently appeared on the Rite Gud podcast hosted by R.S. Benedict, a podcast that helps you rite gud, to talk about what it means to want to be a writer. We discuss the impractical romanticization of writing-as-identity separate from writing-as-craft, the bad motivations people may have for wanting to be thought of as a writer, and the worrisome idea of tying your entire identity to a single thing you may do or not do in general. I had a blast recording, and you can listen to the podcast on the Kittysneezes network or wherever you personally get your podcast fix.
And that's it! Don't miss the previous piece on the website added in the last update, an essay on the film Brief Encounter, my Fallout: New Vegas fancomic, and some new t-shirt designs at the store.
February 19, 2021
It's almost March! That has nothing to do with anything, but it sure is almost March, huh.
I keep writing things and making things, just little things, that I never feel are "big enough" or "important enough" to put on the website that I explicitly created for writing things and making things...and for what? Why not! This is my website, I could add a bunch of flashing dinosaur GIFs to it if I wanted to, let alone stuff I poured my heart into.
New to the site is another essay ported from my Letterboxd activity, much like the one about Michelle Pfeiffer's Catwoman. This new one is about David Lean's captivating romance Brief Encounter (1945), and love, and what both things mean to me now. I hope that you can appreciate it.
Reiterating from the last update, make sure to check out my thesis on monstrous transsexuality if you haven't yet, and if you're looking for lighter reading then I'm still regularly updating my Fallout: New Vegas fancomic It Keeps Right On a-Hurtin'. The eleventh issue was a collaboration between a friend and I about being trans, the apocalypse, and whether it's a good idea to fight through an irradiated mass grave overrun with feral mutant corpses if it means securing a guaranteed stash of scarce hormones. Good, wholesome, fun. I also have an original short story in the works and an upcoming podcast appearance to look forward to, so tune in same bat time, same bat channel for updates.
Oh! And two new shirts are available at the Dracula Voice store. They're really cheap and got cool skeletons on them, so take a look.
Finally, I am aware that some of the old articles I've written under Features may or may not inaccessible due to the...lovely impermanence of the digital publishing landscape. Sometimes they're up and sometimes they're not, it genuinely just happens at random. I'll get around to porting them here eventually, for now just...stare tantalizingly at the thumbnails, I guess.
December 26, 2020
Oh, goodness. It's about time I blew the dust off this thing.
What happened, Carmilla? A pandemic, of course, but then the finishing of my thesis in June, and then moving in with my wife in September after five years of long distance (hooray!), and somewhere in between I wound up rekindling my love for art and comics via hyperfixation on the video game Fallout: New Vegas and have been plugging away at a fancomic based on the game for several months now. If you're totally unfamiliar with the source material, then if a haggard transsexual courier seeking revenge against the man who shot her in the head around post-post-apocalyptic Las Vegas sounds interesting to you, I think you'd enjoy it nevertheless. I'll be working on a gallery on this very website for it eventually, but for now you can at least just find a link to the comic under Fiction.
Aaaaanyway: the thesis! The thing I never shut up about, ever! Of course! It's finally free, finally done, and several months after the fact (sorry), it's finally added to this website! A link to the thesis is now nestled in the Nonfiction section of this website, as it can be downloaded by the public from my university's archives. Go forth, my monstrous transsexuals, and read it and prosper!
April 20, 2020
As a pandemic completely unprecedented in living memory sweeps the globe, social distancing procedures are adhered to, and entire states and countries plunge into some state of lockdown, a lot of people suddenly cooped up indoors are finding themselves with a lot of time on their hands. Gives me plenty of time to finish up my thesis, for sure. Since I was staying inside all day anyway, it's almost unnerving how little my day-to-day has been affected.
As it was last month, the Dracula Voice Store is open for business and selling Monstrous Transsexual apparel. All proceeds for the Monstrous Transsexual shirt go towards crowdfunds for trans surgeries and health care, so if you're a monstrous transsexual yourself then there's no bad time to buy one.
March 28, 2020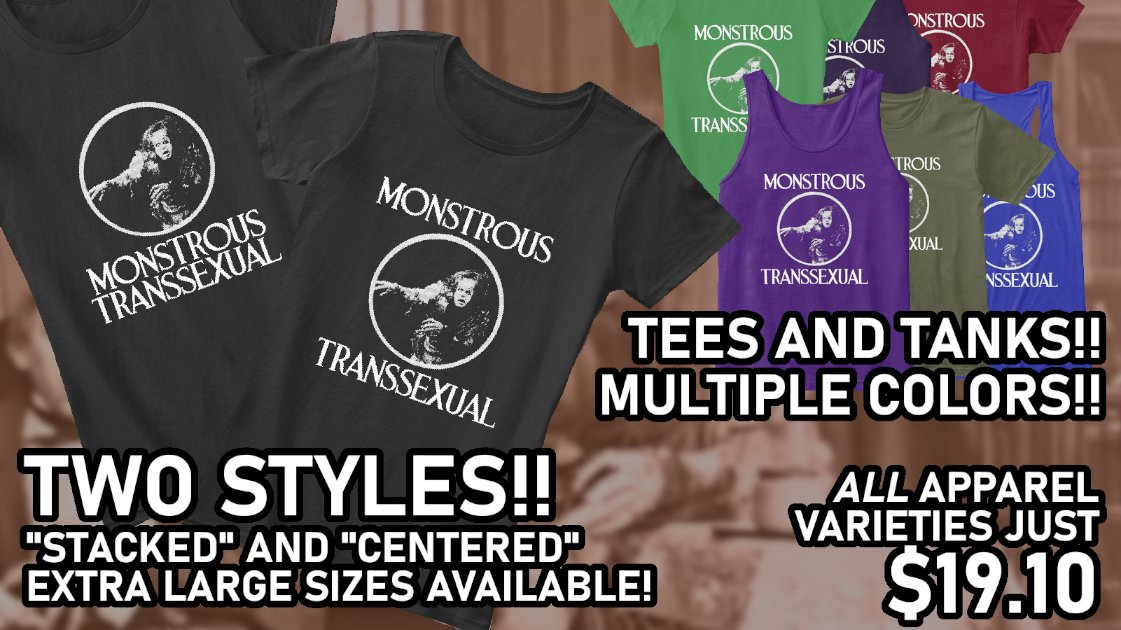 Technically it's not new but it's newly listed on this website! The inaugural item at the Dracula Voice Store is the Monstrous Transsexual t-shirt and tank-top, inspired by my thesis and avaiilable in both a "Stacked" and "Centered" style. It's available in multiple styles and all varieties cost only $19.10, in honor of Edison's Frankenstein which graces its front (though there is unfortunately a small surcharge for plus sizes, which is out of my control). All proceeds from these shirts go to fund surgeries for other transsexuals. You can visit the store by clicking the links or image above, or under the "Connect and Donate" drop-down menu.
March 9, 2020
Thesis, thesis, thesis, every time that I update this page I apologize for the lack of updates because my master's thesis is taking up all of my free time to write, but so what, it's true! Only a scant few months before it's all over and done with, anyway, and I couldn't be more excited. I buzz about it occasionally on my Twitter.
When I'm not working on my thesis I'm breaking occasionally to watch movies, and recently I've taken to watching my DVD shelf so that I can figure out which ones I want to keep and which ones I feel could use a better home with someone else. My high school self was an obsessive Batman fan so naturally this project led me to rewatching Batman Returns for the first time since December 2017, where seeing it in a theater was instrumental to my transsexual awakening. So now you can't say I've forgotten about this website: I've written a short personal essay about exactly how and why its "representation" resonated with me so strongly, and when I have more time on my hands I might expand it to talk about other films that have had the same effect on me since. My latest is now live: "The Transsexual Catwoman, or: How I Learned to Stop Worrying and Feel So Much Yummier."
December 14, 2019
Happy holidays! Nothing major to report this time, except that it seems as if the VRV Blog is back in action, and all of my writing for the platform along with it. This just means that I've reverted the changes that I made a few weeks ago to my Features page, and all of the links should work as normal again. Offline, I'm continuing to work on my thesis about gender and sexuality in Frankenstein films, and while it aches me to starve the website of content I know that it'll be a dissectable bounty of ideas once it's done. Wish me luck as I press ever onward into this lovely work.
November 22, 2019
Thanksgiving is next week, and do you know what I'm thankful for? Digital back-ups. I was crestfallen to learn today that the platform that hosted several of my first features was shuttered, well...god only knows how long ago, which means that all of those links are dead and that the content has vanished completely into the ether. Fortunately, I still have the writing itself saved, and hopefully each feature will find a new home sometime soon, if not one here.
The latest piece on the draculavoice is still "Not Falling Asleep Won't Save You," a piece that I am still tremendously proud of and hope that if you're here, you'll read it now if you haven't already. The Sunday Morning Horror Show is still a delight to host and yes, eventually I'll figure out a way to integrate it into this website, too. But as every update from this year will tell you, I'm working on my graduate thesis, so things other than that are slow endeavors. These Frankenstein films don't watch themselves, you know!
October 10, 2019
Happy Halloween! It's not for a few more weeks but that doesn't mean that it's too early to celebrate the season. You can celebrate, here, too, with a brand new essay on A Nightmare on Elm Street and its sequel, Freddy's Revenge. The second film, somewhat maligned for how it eschews the rules established by its predecessor, offers a unique kind of dream-like horror precisely because of its black sheep status in the Nightmare franchise. Check it all out in my latest: "Not Falling Asleep Won't Save You."
If you follow me on Twitter you may know that I've started hosting The Sunday Morning Horror Show, a horror movie livestream at 10:00 AM CST each week. I've finally added a link to the streaming channel in the navbar up there. This might be a weird week to do it, though, since this week's installment of the show takes place on Saturday due to scheduling conflicts, but still! You can search my Twitter for announcements related to the show and maybe one day I'll integrate it, or at least post a schedule, here on the draculavoice.
Also in the pipeline for this site? Light mode! I know that white text on a dark background can be an eyestrain for some people, just as white backgrounds can be a strain for me, so once I get a chance I want to try to integrate a toggle for visitors to choose their preference. But as you can see, I couldn't even get new writing on the site for four months, let alone quality-of-life widgets! My time has been occupied so much lately by my graduate thesis, a Herculean endeavor that takes up the bulk of my time. That and my Nintendo Switch. Wow, why the hell did I buy a Nintendo Switch when I should be working on my graduate thesis?
Anyway, as usual, all visitors are welcome to share feedback on my work or donate a tip via Ko-Fi. Have a wonderful October and a wonderful Halloween, and thanks for stopping by.
July 24, 2019
"Girls are caterpillars while they live in the world, to be finally butterflies when the summer comes." This is a quote from J. Sheridan Le Fanu's Carmilla, my namesake, and one that I treasure dearly. It's also extremely apt for me as a transgender woman, since today—the 24th of July—marks my thirteenth day of hormone replacement therapy! Some people will forever associate the 11th, "7/11," with hot weather and free slushies. For me, it was the first day of the rest of my life.
It's not the only transition I'm undergoing, either. June marked the amicable and mutual conclusion of a three-and-a-half year, long distance relationship (though with someone unquestionably still considered my best friend) and the beginning of my research and work on my master's thesis, a project due in Spring that will herald my graduation at last. It may sound strange, but you can read more about it in my latest feature for Fanbyte, "Why Banjo-Tooie is a True Adventure," in which the process of exhausting an old video game gave me the opportunity to reflect on what it really means to complete something, to end one chapter in life and begin another. My latest piece on my own site, of course, is still "The Hands of L'Argent."
As for the usual plugs, new visitors to the site can follow me on Twitter where most of my virtual shouting goes, and fans of my work can tip me a few dollars via Ko-Fi.
June 16, 2019
Summer is finally here, which means a lot of things. It means that I've turned another year over, I have some time off from graduate school, and the weather is going to be pleasant for about two weeks before getting unbearably hot. It also means that I can finally start tackling all that I've put off until I'm on summer break from class: films I need to catch-up on, books I need to read, pieces I need to write, that sort of thing. I'll also be trying to begin hormone replacement therapy of some kind by the season's end, so...we'll see how that goes.
Anyway, there is one thing I've done that I can at least share with the site now. For my most recent graduate class I had to get elbow-deep into the filmography of Robert Bresson. I was largely unimpressed but with one very notable exception: L'Argent. You can find my thoughts on the film, and a photo gallery of its most evocative shots, in my latest piece in the Misc. section: "The Hands of L'Argent".
If this is your first time visiting the site, know that you can follow me on Twitter for alarmingly frequent updates from myself, and if you enjoy my work then you can spare me a dollar or two with a tip on Ko-Fi.
May 13, 2019
You know, I was originally planning on launching this website publicly on my birthday next month, but once I got the pictures back from my photoshoot and had everything in place I just couldn't wait. So here we are—I'm Carmilla. Cool to meet you.
Over the last few months I've begun Writing For The Internet, and while it's very nice and all, it's so disorganized. The internet is a big place! You can get lost! But now that I have my own website, all of my work is conveniently linked to in one place (see Features). Additionally, I can start hosting my own writing independently. You'll find that the opening attraction is a historical survey of hunchbacked assistants in adaptations of Frankenstein, an updated version of some personal research done long ago.
I'm excited to write Fiction (eventually), but for now you can also explore the Misc. section for some of my assorted projects or just get to know me better. As you poke around, keep in mind that I had to code this entire website myself, learning HTML in the process. I'm no expert, so if you find anything weird or wrong, or if you have any feedback on the site itself, feel free to contact me. First on the agenda for further coding is some kind of "Light Mode" in case the dark background is hard on anyone's eyes.
I'll update this site whenever I have more writing to add to it, so if you want to just get an unfiltered and ceaseless look into my daily stream of consciousness, follow me on Twitter. Oh, and if you like what you see, you can spare me a dollar or two with a tip on Ko-Fi.
April 23, 2019
If you've come across this site in its current state, pardon the dust. It's still under construction, as it has been for ages now, but generally I find the time to chip away a little more at it at least once per week. It's in the final phases now: not a lot of content left to write, just a lot to organize and facilitate. But soon, very soon, it'll be "live."
In the meantime, there is some interesting work here. Check out the Nonfiction section for my latest work, a revised version of an old essay I once wrote on the hunchbacked stock character of "Igor." In the Misc. section you'll find some of my various projects and next door a collection of Features I've written for other websites. The "Contact" link is still a placeholder, so if you really do like what you see and would like to reach out, find me on Twitter. And stay tuned. I'm very excited to get this place up and running.